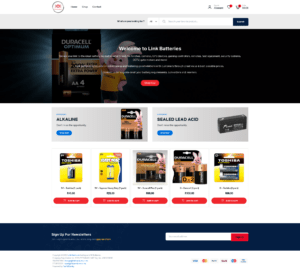 Introducing Link Batteries – Empowering Your Devices with Unmatched Power!
Our team of experts carefully analyzed the gathered information and collaborated closely with the client to ensure that all aspects of the project aligned with their vision. By meticulously considering their budget, timeline, and specific preferences, we crafted a tailored solution that not only addressed their immediate needs but also accounted for future scalability and growth.
Welcome to the world of cutting-edge energy solutions at Link Batteries! We pride ourselves on being the premier destination for all your battery needs in South Africa. As a leading provider of high-quality batteries, our mission is to empower your devices with unparalleled performance and endurance.
At Link Batteries, we understand the critical role batteries play in powering various aspects of modern life. Whether you're looking for batteries to keep your gadgets running smoothly or battery replacement for your ups.
What sets us apart is our unwavering commitment to quality and reliability. We source our batteries from top-tier manufacturers and rigorously test each product to ensure superior performance, safety, and longevity. With our diverse range of batteries, including, lithium, gel, sealed led and Alkaline variants, you'll find the perfect fit for every application.
But our commitment doesn't end with just the products. At Link Batteries, we prioritize customer satisfaction above all else. Our knowledgeable team of experts is always ready to assist you in selecting the right battery solution tailored to your unique needs.
Furthermore, we understand the importance of environmental responsibility. That's why we actively promote and provide eco-friendly battery options, encouraging sustainable choices without compromising on performance.
Experience the difference that Link Batteries brings to the table. Visit our user-friendly website at https://www.linkbatteries.co.za/ to explore our extensive range of batteries and unleash the true potential of your devices. With Link Batteries, power up your life with confidence!
Contact Red Wizardry today to discuss your Information Technology requirements. We offer on-premise, remote bespoke application and mobile development, as well as outsourced staffing solutions.